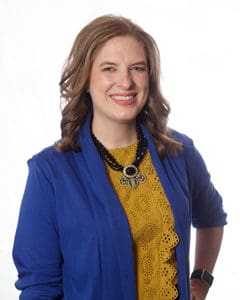 Allie
Office Manager
Allie has been working in dentistry her entire life, thanks to her dad, Dr. Peter March. Allie started working for him in 2003 as a clinical and hygiene assistant while off on school breaks. After earning her bachelors from the University of Illinois Urbana/Champaign she went on to obtain her dental hygiene degree from Kennedy King College at the UIC College of Dentistry. Allie wears many hats around the office, working as a dental assistant, hygienist, receptionist, and office manager. She chose to follow in her father's footsteps because of his passion for the field of dentistry. What would Allie do if dentistry wasn't in her blood? She'd be creating beautiful and elegant floral designs for weddings and special occasions. Her fellow teammates love Allie because she's creative, loyal, helpful, and genuine. In her spare time, Allie volunteers as a hygienist at the Will-Grundy Clinic in Joliet. She loves giving her three kids different experiences in life whether it's traveling, visiting museums, seeing shows, or visiting family.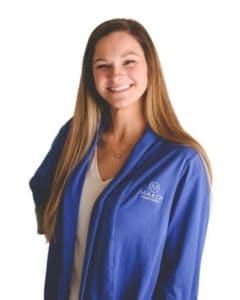 Allyx
Dental Hygienist / Expanded Functions Dental Assistant
Allyx graduated in 2016 with a degree in dental hygiene, with certification for the administration of local anesthetic from Parkland College. She also completed training to become an Expanded Functions Dental Assistant in 2020. Allyx is your local Marie Kondo, and loves to clean and organize. Going to the dentist as a child was always a joy for her, and she wants to pass on that experience to every patient that comes to see her. Allyx loves to laugh, and will put you at ease while helping you reach your smile goals. The team at March Family Dental Care thinks Allyx is caring, hard-working, and patient. All of these things amount to an awesome dental visit when you have Allyx by your side.  At home Allyx loves to craft, take care of her husband, and keep things organized.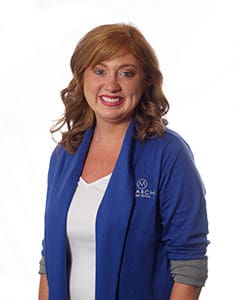 Amy
Dental Hygienist / Dental Assistant
Amy received her dental hygiene degree, along with certification for the administration of local anesthetic from Prairie State College in 2017. Amy is a farm girl at heart and translates all of the hard work and discipline she's learned on the farm to the dedication she has for taking care of teeth. She loves teeth and smiles so much that she decided to devote her life's work as a dental hygienist. Amy will always go out of her way to take care of you and your smile. She'll make sure you're comfortable and ready to take care of your smile at home in between cleanings. We love having Amy at March Family Dental Care because she's driven, eager, motivated, sassy, and our in-house wine expert. If she had not decided to pursue a path in dentistry, Amy says she'd probably be somewhere in space or still buying grain from farmers. Her two daughters keep Amy busy and on her toes outside of work. She also enjoys volunteering with the Red Cross, gardening, and running.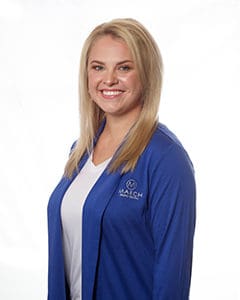 Andrea
Dental Hygienist / Dental Assistant
Andrea is a graduate of Parkland College and has been part of the March Family Dental Care team since August 2016. If you're lucky enough to work with Andrea, you'll quickly see that she's very creative, balanced, thoughtful, loyal, and upbeat. Together, both you and Andrea will create a long-term relationship based on friendship and trust. She'll recommend and deliver stellar hygiene care, promote and support your recommended treatments, and help the doctors ensure you're comfortable. Andrea loves what she does because it allows her to really get to know people and feel that same level of joy right along with them when they complete treatment. She enjoys knowing that patients are getting the care they deserve and bring a positive change to their lives.  Andrea says she also likes being part of a team that genuinely cares about every person who comes to the office like they're family. This is something Andrea knows a little bit about, coming from a large family herself. When she's not working, Andrea is usually spending time with her nieces, exploring the outdoors, hiking, fishing, biking, cooking, and spending time with her husband, Adam.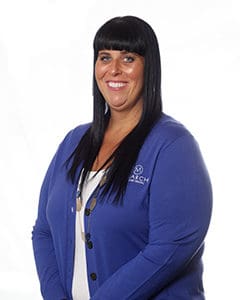 Jamie
Patient Coordinator
Jamie became a member of the March Family Dentistry team in September 2014. She was drawn to the office because she wanted to work every day with a great group of individuals whose primary focus and priority are always on patient comfort and experience. She says the unique crew assembled in the office makes her job so much fun, and everyone brings individuality to the office. Jamie says it's the doctors, both Dr. Peter and Dr. Edmund, and their talents that make this office uniquely one-of-a-kind. This self-proclaimed beach bum is also dedicated, witty, compassionate, and true animal advocate. Outside of the office, Jamie volunteers on behalf of and saves pit bulls throughout the Chicagoland area, something she's been doing since 2012. She helps educate the public about pit bull myths and facts. Jamie also volunteers full-time with the Salvation Army, likes taking random day trips, spending time with her "nieces," being a mom to her dog Reva, and watching crime TV.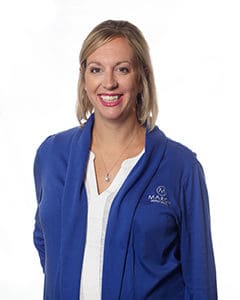 Kare
Dental Hygienist
Kare has been with March Family Dentistry since 2008 working as a dental hygienist after graduating from Parkland College. Since high school, Kare says she knew she wanted to do something in health care for her career; she just wasn't sure what to choose. She ended up job shadowing a dental hygienist and fell in love with all things dentistry. Fast forward to today, and you'll find Kare still feels the same way. She says she loves the work she does because she's ultimately helping people live healthier, happier lives. Kare enjoys educating patients about taking care of their smiles at home and answering questions. Outside of the office, Kare stays busy spending time with her young daughter, son, and her husband, Brad. When the temperatures are warm, you might also see Kare wandering antique flea markets in search of a good bargain with her mom and sister.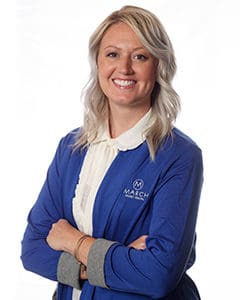 Katie
Dental Hygienist / Dental Assistant
Katie is a 2012 graduate of Prairie State College, earning her dental hygiene license and certificate to administer local anesthesia. She's been working in dentistry ever since, and we're so thrilled to have her as part of our dental family. Katie chose a career in dental health because she's always had a passion for helping others. She loves being able to give others a different outlook on dentistry, striving to build confidence and trust in all patients. Katie likes watching her patients and the practice grow while having access to some of the best, modern technology available in dentistry today. Katie also has hands-on experience with both traditional metal and Invisalign orthodontics. Spend just a few minutes getting to know Katie and you'll quickly see that she's personable, compassionate, outgoing, reliable, and fun. In the past, Katie has volunteered her time to local schools and churches educating children on oral health. She also enjoys taking weekend trips, short/long distance running, and going to concerts with friends.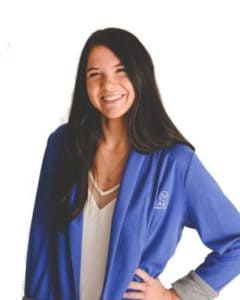 Sam
Dental Hygienist / Expanded Functions Dental Assistant
Sam joined March Family Dental Care in 2020 after practicing dental hygiene and assisting since 2013. She loves the proactive nature of the dental hygiene field, and loves bonding with her patients while sharing the joy of completing treatment for healthy and beautiful smiles. Sam is very passionate about dental health, and has been to Guatemala on a dental health mission to help those with no access to dental care. If you ask her about working here, Sam says everyone treats you like family, and it feels like coming home instead of to work. Sam is very loyal to her team and family, and if not working here at March Family Dental Care, would be helping her dad at his manufacturing business in Kankakee, or flipping houses with her mom. Ask Sam about her time living in Tennessee, or about the Harry Potter series. When she's not chairside with patients, you can find her cooking, biking, traveling, and spending time on Lake Michigan with her goldendoodle, Lilly, and boyfriend, Brian.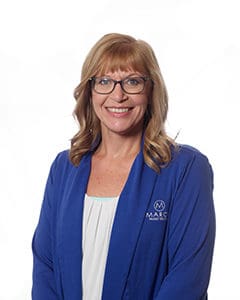 Norma
Dental Assistant
Norma joined March Family Dental Care in 2005 and now has nearly two decades of dental experience under her belt. Norma says she decided to pursue her career path because she fell into dentistry just out of high school and she's been loving it ever since. Norma is happy, diligent, hard-working, careful, and caring. You might see her assisting our doctors with fillings, crowns, implant placement, extractions, x-rays, 3-D scans, and panoramic x-rays. One of her other big responsibilities is to help patients like you always feel comfortable and at ease during treatment. If you ever need anything, just ask Norma! After she's done dental assisting for the day, Norma heads home to her husband and two wonderful sons where she's the secretary for their housing subdivision. She also enjoys tending to her flower garden, baking, and spending quality time with her family.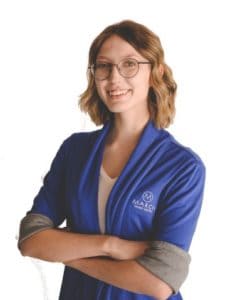 Lauren
Dental Assistant
Lauren is our level-headed, detail-oriented, dorky dental assistant who joined us in 2020 to keep everything functioning and clean. She's always there to lend a hand to the doctors or hygienists with whatever is needed. Lauren left her job at McDonald's to join us in the start of pursuing her career in dental hygiene, and discovering the ultimate nerdy tooth joke. A big nerd at heart, Lauren plays Dungeons and Dragons every weekend with her friends, and loves the book Way of Kings by Brandon Sanderson.  At home she enjoys spending time with her two dachshunds Will and Ollie, and lab Sadie.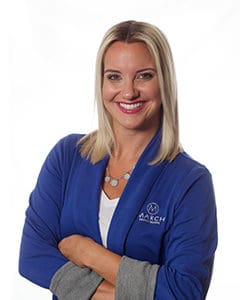 April
Patient Greeter / Dental Assistant
April is a veteran of the Dental Industry, bringing with her 15 years of experience and knowledge. At March Family Dental Care, she is responsible for greeting each patient that walks through the door, ensuring that everyone feels welcome and at home in our office! April also answers the phones and assists the doctors in any way she can. She is very proud to be a part of the office and says that the quality care that each of our patients receives is what makes March Family Dental Care stand out. She's able to couple this office's dedication to quality treatment and care with her passion for working with people to achieve their best possible smile! When April's not in the office, you could find her hosting numerous get-togethers and celebrations with her friends and family or styling nails on the side. She is also a mother of 2 and is fortunate to be a part of a large family (8 brothers and sisters!).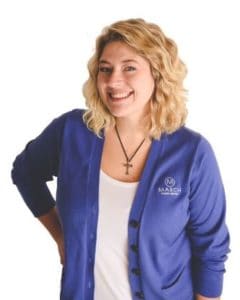 Sarah
Treatment Coordinator
Sarah has been working in dentistry for many years, including volunteering with Dentistry from the Heart, so you know she really enjoys being part of the team at March Family Dental Care. Sarah is the one to talk to if you have any questions about your customized treatment plan or need to schedule with Dr. March. New patients and existing patients will like working with Sarah to rise over any barriers to treatment so they can be healthy and have a smile they are proud of. The team and patients love Sarah for being funny, thoughtful, and encouraging. A book she recommends everyone should read is Leadership and Self Deception, as it helps get your thinking out of the box! If not coordinating dental treatment, Sarah might have opened her own party business specializing in balloon decor. Spending time with family is really important to Sarah, and when not at work you can find her riding bikes with her daughter, leading the local Girl Scout troop, fishing, boating, bowling, swimming, and playing games.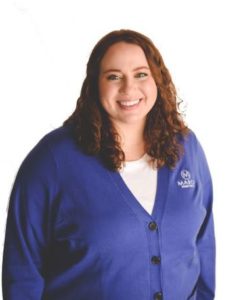 Christie
Insurance Coordinator
Christie is your go-to if you have any questions about insurance. Previously a dental assistant, Christie would like to become a dental hygienist one day. Christie loves how all of the patients she meets at March Family Dental Care are so friendly and easy to talk to. We'd describe Christie as determined, intuitive, and empathetic, and we believe that shows when patients give her a call. Christie volunteers as a Religious Ed teacher at St. Paul's in Peotone when she's not at work or with her family.  Family is very important to her; she enjoys spending time with her husband, Josh, daughter, Penelope, and her dog named Artemis. Christie is also a big Netflix and movie junkie, loves bike-rides, trips to the park, reading, singing, and cooking.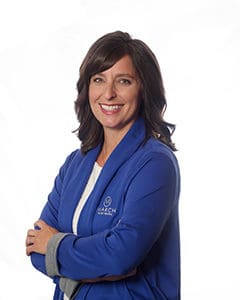 Valerie
Dental Hygienist
Valerie graduated from Parkland College in 1998 and has been working at March Family Dental Care since 1999. She's currently a part-time registered dental hygienist who acts as our answering service on the days she's not in the office. Over the years, Valerie's love for being a hygienist has grown thanks to her love of the one-on-one time she gets to spend with her patients. She loves educating people about their dental health and helping them both to improve and maintain their oral and overall health. She loves learning about how the field of dentistry is constantly advancing and evolving. Valerie's interest in dental care started when she was very young because her father was a dentist in Momence. She helped out around his office doing a variety of jobs. She admired his passion for his craft and decided to follow in his footsteps. Valerie is loved by her coworkers and patients because she's caring, trustworthy, an encourager, dependable, and hard-working. Valerie is married with two children and a yellow lab. The family enjoys spending time together while Valerie is in the kitchen trying out new recipes. Her love for the outdoors and nature brings her on lots of walks, bike rides, working in her yard, and being at the lake. She also volunteers at her children's school every opportunity she can.